Date : Wednesday 17 December 2008 – 9.00 pm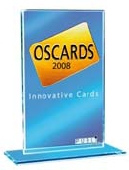 The most significant achievements of 2008, in the field of bank cards, have been rewarded at the 3rd edition of OSCARDS, which brought together bankers, credit institutions, private label companies, providers and marketing professionals, on 17th December in Paris. This event is organized by Publi-News, and sponsored by Carte Bleue Visa, SPB, Affinion International and Atos Worldline.
The 16 winners were chosen from a shortlist of 54 nominees from of 500 cards in the competition. All were listed in the Innovative Cards 2009 report, published by Publi-News in association with Alténor consulting firm. The choice of winners was made by a jury of international experts in the field of cards (banks, providers). This year, there were six winners from France, six from Europe and four from the International category.
The OSCARDS for innovative cards showcases creative marketing strategies taken by banks, and the research for tangible differentiations for the benefit of clients. They pay tribute to the bank card profession, which enures that cards are the favourite means of payment for consumers.
INTERNATIONAL CATEGORY
Loyalty/Reward: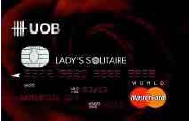 Lady's Solitaire card - UOB - Singapore
It targets business women who earn more than 0,000 a year. Bonuses are tripled when they go shopping in luxury stores like Chopard, Fendi, Hugo Boss and Valentino. They can benefit from discounts and up-market packages for holidays.
Services: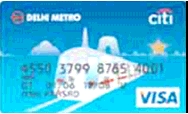 Metro Delhi card - Citi - India
Empowered with contactless technology, it enables users/cardholders to take the subway easily with 'Tap and go' technology; collect points; advantages at retail partners; free tickets on subway.
Design: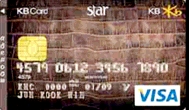 Leather card - Kookmin Bank - South Korea
In addition to its luxurious card visual, Kookmin Bank provides two types of leather design: Crocodile and Ostrich. Cardholders are offered special APR for both loans and savings. Bank transactions earn the cardholder loyalty points (named 'Pointree').
Technology: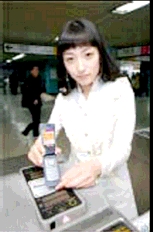 Visa card - Shinhan - South Korea
Mobile Auto reloads in real time mode via OTA (OverTheAir) for transit application set up by Shinhan Card, whose number is registered by cardholders at the transit mobile portal. This service was launched on 20th August 2008 and is commercially available. It was jointly developed with Visa and KSCC (Transit operator) and, as a result Shinhan Card became the first issuer to offer the mobile top-up service with Visa card.
EUROPE CATEGORY
Loyalty/Reward: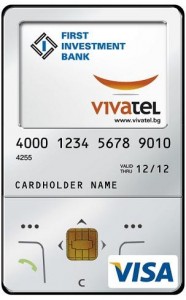 Vivatel card - Fibank / Vivatel - Bulgaria
This product is a result of the excellent cooperation between the largest telecommunications company in Bulgaria, BTK Group, and First Investment Bank. The card is the first and only product with vertical design and special way of name and card number. It was launched in the Bulgarian market on December 12th 2007. The targeted customer base is the VIVATEL post paid subscribers – more than 150,000 at the time, and growing faster than the competition.
Services:
Emergency Cash ATM - Royal Bank of Scotland - United Kingdom
Launched on December 15th 2007, Emergency Cash Service enables customers who have lost their debit card to withdraw up to £300 at RBS Group ATM's, using a PIN code which can be obtained by calling the Customer Service.
Design: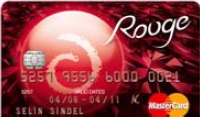 Advantage Rouge card - HSBC - Turkey
Targeting working women living in big cities, this card has a smart design and… is perfumed! Cardholders benefit from different advantages and discounts at some retail partners (shoes, fashion, beauty, restaurants and travel).
Pre-paid cards:
Billycard - KBC - Belgium
Billy is a virtual gift card for on-line buying. Billy is a great alternative to traditional gifts. Moreover Billy can be designed and personalised. Billy can be used instantly to buy anything, anywhere, anytime.
Technology - 2 winners:
University - Caixa Geral de Depositos - Portugal
This card is a multi-functional Maestro with a powerful chip. Empowered with contactless technology, this debit card enables identification for access control (car parks). It has a barcode with the cardholder's identification for access purposes, and a personalized magnetic stripe for identification in libraries, for example.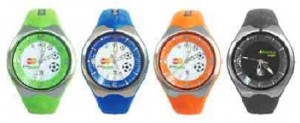 Paypass Watch - Altair - United Kingdom
The re-loadable MasterCard® PayPass™ Watch can support offline transaction authorisations. Altair Financial Services International Plc (Altair), a global pre-paid cards and transaction processing solutions provider, has teamed up with CardPOS Europe/Laks and ID Data to offer the latest innovation in contactless payment.
FRANCE CATEGORY
Loyalty/Reward - Co branded cards: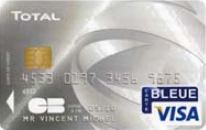 Visa card by Total - Total / Sofinco
This card targets individuals with an offer of 3.6% or 9% discount on purchases in Total service stations in France, and free breakdown assistance. The Tirelire account accumulates discounts collected with Tirelire Total partners, and earns Total cheques to be used in Total service stations. Ease of payment on the cardholder's request.
Loyalty/Reward - Affinity cards: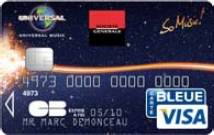 So Music card - Vivendi Universal / Société Générale
The So Music cards are available in VPAY, Visa and Visa Premier. This co-branded collection with Universal Music targets music lovers, and more particularly 16 to 29 year-old young, frequent consumers of digital music. So Music cards propose services specially designed for them: Unlimited legal downloading of music for less than 5 € per month, from the website www.somusic.fr, reductions on CDs and artists' derived products (T-shirts, mobile ringing tones…), 24/24 access to a WEB TV dedicated to music: videos, news, artist interviews, concert information…. Free seats for Universal Music concerts.
Services: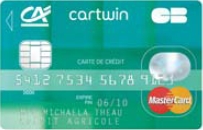 Double Action card - Crédit Agricole
To reinforce and boost its position in the bankcard market, Crédit Agricole has launched a new Combo card, the debit/credit card or Double Action card. This card has an innovative feature and Credit Agricole will be the first bank to offer it in France: for each purchase and withdrawal, at the retailer's or on an ATM, the client has the choice of payment method of the transaction - debit or credit.
Design: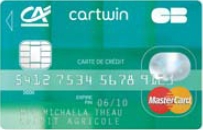 Double Action card - Crédit Agricole
The visual materialises the marketing innovation and really follows up the launch of the Double Action card: Transparency = innovation, breakthrough in the classic credit card environment (i.e. new era), Camaieu green=wealth of services (debit/credit, insurance), the card answers all the customers needs. The "squares" = reliablity of the bank, clarity of the offer, it reassures the customer in comparison with the credit offer.
Pre-paid cards: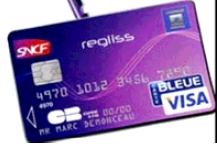 Regliss card - SNCF / La Banque Postale
Regliss is a pre-paid card targeting 12-25 year-old youngsters. It is issued by La Banque Postale and co-branded with SNCF. Regliss is a VISA pre-paid card at the heart of a programme aiming to educate the young in money management. Regliss enables parents to give their children a controlled autonomy in the management of their money and in their train travel. Regliss also offers alert services, insurance and assistance related to the use of the card and to the travel of the cardholder. Some of these services are intended to notify parents in the event of an overdraft on the card or if anything should happen during their children's voyage. Management of the product can be done on the Regliss card website.
Technology: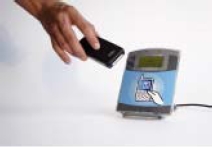 Moneo Mobile - Crédit Agricole Franche Comté / BMS
Payment experiment involving small everyday purchases by mobile phone; deliberately limited geographically (Besançon) and for a defined period (from October 2007 to January 2008); several hundred targeted participants being Crédit Agricole customers (students or employees attending the University of Bisontin campus and having a mobile subscription); retailers and local partners, representatives of various payment sectors. One thousand operations have been processed, without major incident, meaning the bank has successfully met its objective. Moneo is an electronic purse distributed by French banks.
ORGANIZER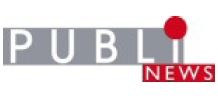 Publisher specialised in banking information with 16 newsletters and magazines, including Cartes MAG and eBanking & Payment News.
Contact: Ange Galula - Phone: (33) 1 41 49 93 67
Email: ange.galula@publi-news.fr - Web: www.publi-news.fr
PARTNER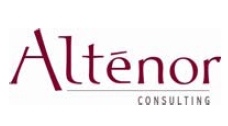 Alténor is a consulting firm, specializing in strategy and innovation in the financial services industry.
Contact: Thierry Dinard - Phone: (33) 1 53 53 40 32
Email: hierry.dinard@altenor.com - Web: www.altenor.com
SPONSORS
Carte Bleue, exclusive licensee for Visa over the last 35 years, offers a scope of electronic payment services to around 200 banks and financial institutions. Carte Bleue's mission is to support banks in conceiving banking card programmes and related services, and to adapt Visa programmes accordingly to French bank's commercial strategies. Carte Bleue Visa is in France the leading banking cards' brand, both in terms of awareness and image.
Contact: Sabine Defrémont - Phone: (33) 1 40 15 18 25
Email: sdefremont@carte-bleue.com - Web: www.carte-bleue.com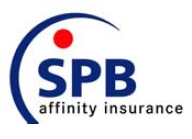 SPB has been creating and managing white-label insurance and assistance solutions for corporate accounts since 1965. Present in Belgium, France, Spain, Portugal, Italy, Poland and Switzerland, the SPB Group has become a European leader in several insurance segments and is a preferred partner for numerous large French and European bank networks. Recognised for its strengths in innovation and client management, the Group, staffed by some 600 people, is forecasting €65 million in revenues for 2008.
Contact: Catherine Lanson - Phone: (33) 1 45 61 74 80
Email: clanson@spb.eu - Web: www.spb.eu
With more than 30 years of expertise, Affinion International is a leading marketing agency that offers you a global and innovative marketing approach (acquisition, retention, customer loyalty, etc). Affinion value proposition is based on a high level of services and a broad wallet of products, professional advise for affinity and cobranded cards launch, communication and partnership and programs sourcing. An unique "Customer Experience" !
Contact: Yann Emilian - Phone: (33) 6 60 76 33 86
Email: yann.emilian@affinioninternational.com - Web: www.affinioninternational.com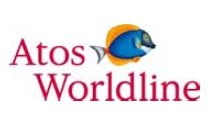 Atos Worldline is a major European IT player in the processing of high-volume electronic transactions. It specialises in end-to-end payment services including issuing, acquiring and developing payment technology solutions; card processing; CRM & eServices (internet, voice and mobile services). With the focus on technological innovation, Atos Worldline implements its solutions in processing or integration mode.
Contact: Carole Cheval – Phone: (33) 1 49 00 93 11
Email: carole.cheval@atosorigin.com - Web: www.atosworldline.com